Discussion Starter
·
#1
·
Hello all,
My name is John Smith (believe it or not), Most just call me J as that is my most popular nickname.
At anyrate, My girlfriend and I have two Pit bulls. The older of the two is a mix and is a little over 2 years old and his name is Angus. My baby is only 3 months old. His name is Magnum. he is obviously training and I'm just waiting on a date where I can get the younger one fixed.
Angus, the two year old, is a 68lb pit bull mix. We are not 100% what he's mixed with because he was a rescued dog. His demeanor is great, he loves people (except for men or women in uniform and some men he hates but will still listen to comands), and is very protective of his house, my girlfriends nieces and nephews, and us. Overall he's a great dog. Only issue I have had was when he was over at our nieces and nephews house and our nephew took him out and he ended up bighting a neighbor who was threatening the kids. This was recent and he is still quaranteened waiting on his vet visit and tests.
Magnum is a 3 month old American Red nose with a very unique coat. He is my dog as Angus is the ladies dog. He's pretty much your normal pitbull puppy. Hyper, chews everything, and loves playing ALL the time. He is very sweet and all he cares about is attention. Loves to make out and loves munching on the goatee.
All in all I have two beautiful dogs that are very well demeaned despite the issue with Angus and I'm very proud and happy. I can't wait to bring Magnum up in a loving home and once again prove that it's not the breed. It's the breeder. :wink:
Here are a few pics to enjoy.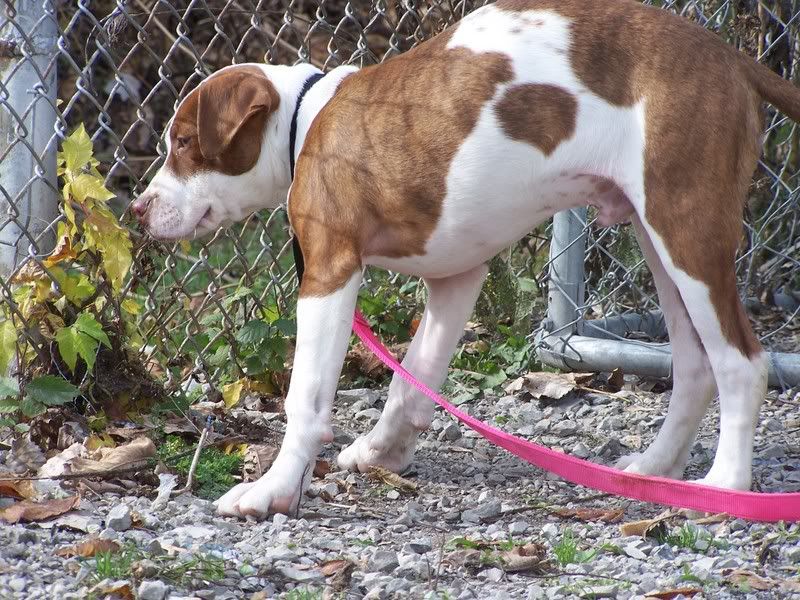 J