Discussion Starter
·
#1
·
Last month I bid on the Pit Bull Rescue Auction and won this
collar & leash set for Clara. Love the colors, Hot Pink & Bright Yellow.

This a pic of a nightly friend of ours who guards our front walkway -
by morning he is gone until evening again.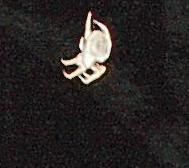 And this one, too, only he is on our front porch, day in and day out. Isn't he beautiful?