Discussion Starter
·
#1
·
Now bear with me these are cell phone pics so kind of small...only camera
Super close up of Scarlet...momma's pretty girl. I dont know if you can tell by the pic but her allergies have been bothering her again...her left eye has been red and watery...she has been getting some tear stains on that eye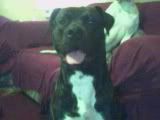 Close up of Clutch...momma's big boy! Hes pushing 90 lb now :shock: !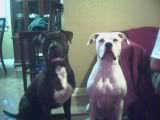 Momma's babies together! This just goes to show ya how large Clutch actually is now...by baby has grown up
. He is just barely taller then Scarlet but out weighs her by at least 20 lb....hes my monster pit 8) . I know how eveyone
Loves
that term!
This was our first try at the 2 together...thought Scarlet looked kind of funny but not bad! They love their cheese-it snaks!