Discussion Starter
·
#1
·
Hey!
This is Loki my new pet bearded dragon. He is about 8-9 weeks old and is just the coolest thing. The dogs get along with him pretty well. I still usually put them up when I hold him just cause I am scared if he gets the zoomies (yes my lizard gets zoomies too) that he will look to much like the outside lizards that the dogs love to eat :shock: ! The dogs know he is off limits though...but when he is running full speed across the couch...I just don't trust them yet. Scarlet will sit outside his cage and just watch him for hours...she is so mesmerized by him. Clutch could give a rat's ass, he's such a dork! Anyway on to my pics…they are off the cell phone so not the best but you get the point!
This is how he likes to sleep when you are holding him. He snuggles in with his face and then tucks his little arms in...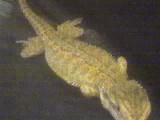 This is to give you an idea of his size...this is my boyfriend holding him...hes not as small as he looks, Marc has big hands LOL...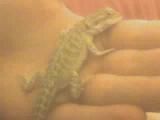 This is so you can see his colors...he is a snow x orange. (white crossed with orange)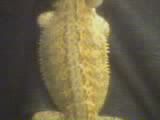 He is soo cool. I am not new to reptiles...I have owned one or another for 1/2 my life but I have never owned a lizard that was so tame and comfortable around people as Loki. He reminds me of the dogs in a way. He does that head side to side thing like dogs do when you talk to him. He also has some expressions he makes that are so himan like. If anyone is interested in getting a lizard get a beardie!