Discussion Starter
·
#1
·
**I know Legend's nails are long in that first pic! He's one of those dogs that you can't clip his nails without a couple people helping! LOL. There going to be cut tomorrow morning at the grooming shop!**
Legend waiting to roughouse with Gemyni
Gemyni saying "Come on Legend so what your 70lbs. heavier then me! I'll still kick your butt!"
You can't catch me Nananabooboo!!!
Hahahaha...I stole Tasha's flower that she gave you Legend!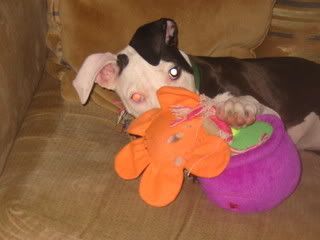 Uh oh...Here he comes!!!!
Okay Okay. I give up maybe you can catch me!
I said OKAY! You can catch me!
What is that mom has Legend?
Okay were going to our crates. We are tired.