Discussion Starter
·
#1
·
To help Nelson with his HD, the specialist said that we need to keep his back leg muscles strong and swimming is a great way to do this. So i took nelson to a dog hydrotherapy pool near us (Aqua Doggies) and as some of you might have seen in a video that I had previously posted of Nelson at the beach, he's not a very strong swimmer.
But it wasn't' a problem at the hydrotherapy pool, because they had doggie life jackets! I just wanted to post this vid of nelson at the pool and look how well he's swimming?!?! This vid is probably the 3rd or 4th time he'd gone into the pool that day. The first couple of times, we had to push him in, but this is the 4th time, check him out, he's swimming like a big boy, no splashing (except when he turns the corner at the end). I"m so proud of him!! :
The last time that nelson went into the pool that day, the lady said he could go in without a life jacket, so we took it off but as soon as he ran jumped into the pool, there was massive splashing then his bum sank, then his back and then his head slowly started sinking! it was so funny! i wish i video'd that! but the lady was so nice, she said that it could be because he's tired. But the next time we go, we'll try him without the lifejacket to start with.
I love this video so much i watch it over and over again and can't watch it without a big grin on my face coz he looks so cute with his life jacket on, and look at this little legs go when he's swimming? i'm truly so proud of my little baby boy!
ps. oh yea and sorry i got a new phone the video's sideways because i didn't know how to hold it when videoing :roll:
pps. you're also gonna wanna turn down your volume too (i had no idea how screechy my voice can get when i'm praising nelson!)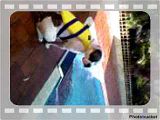 If you can't see the video for some reason or another, here's some pics