Discussion Starter
·
#1
·
Hi Everyone,
When we first got Nelson, he had a few different makeshift cardboard box kennels. We had jsut moved into a new house and had a few boxes coming in. so each time his house floor was soaked with pee, I made him a new one. The last one I was quite proud of because it took me a whole day to make it so i thought this might be a good place to show it off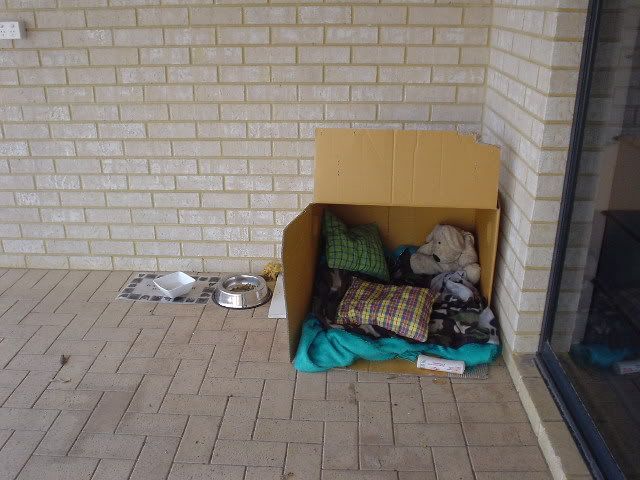 This was the first one that I threw together out of a small moving box we had.
a close up of his belongings. btw the bear in the back corner has since passed. Nelson ripped his guts out and peed all over him. but he always slept with him and cuddled him but the bear got a little too stinky to keep around in the end.
This was his second room, it was just a little bigger.
A pic of Nelson in his second room with his first brand new dog tag!
The piece de resistance!! The house i'm soo proud of. We used to call it "Nelson's Apartment" coz it was so big. i started using black electrical tape to tape up the sides and gaps, then i decided to cover the whole thing with electrical tape. so its not black paint u see there, its strips and strips of black tape. i used about 4 rolls of tape to cover all this. the box was a big screen tv box crossed with a washing machine box. it has a little door (to block the wind and so he can get in and out).
Do not disturb sign and door knob
Name sign
New Flooring (tiling) that was put in because he had wee'd all over the original floor. i needed to cover the pee smell and i didn't want to tear down the apartment.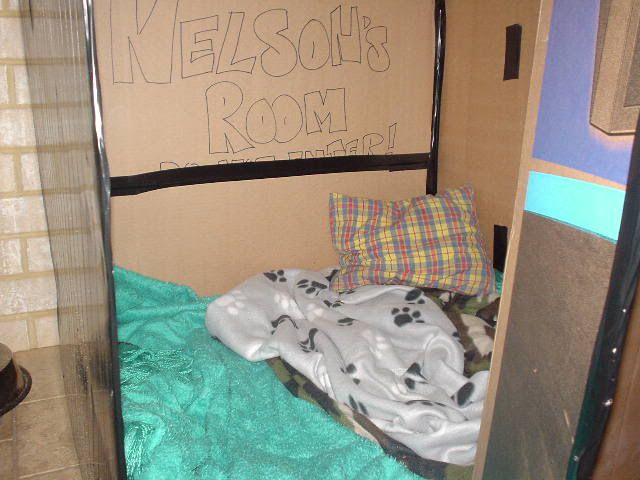 After all furnishings moved in, this was his apartment inside.
so yeah, thats all the effort that was put into nelson's little houses. he ripped this house down within a couple of months and i was devistated when i had to cut it up and put it the pieces in the trash. but at least i have photos of it