Discussion Starter
·
#1
·
Well, I sat down and edited and uploaded the pics from Saturdays show.
We had a little rain and got a bit wet, but it wasn't too bad. Izzy kicked butt again and took Best Puppy (overall) in show in the afternoon. She also took a second in the pm adult group 7, placing ahead of 2 adult dogs. (One was Rosco). Tells you alot about a puppie's potential when an 8 month old female is placed ahead of an adult male Champion.
Rosco took a 2nd in Group 7 in the am show. I only showed Smooch in the pm (you owe me another beer Attitude
)...she didn't make it past breeds because the competiton was too tough with Izzy..lol.
Here are some pics I took
Izzy just standin' around waiting for the show to start....
In the ring with her handler, Roy. Cathy has a messed up back and neck (ya she's old) so she had to get someone else to show her.
Check out Izzy's ass....Couldn't help but call her fat ass all day... :lol: But seriously, great rear on that bitch.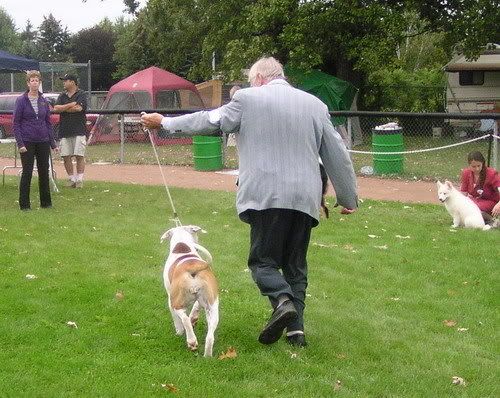 Cathy, Roy and Izzy with their Best Puppy in Show ribbon.
I kept forgetting to give Cathy my camera to take some pics of my dogs. This is the only one I got at the show.. Smoochie in a sit/stay posing like the bitch face she is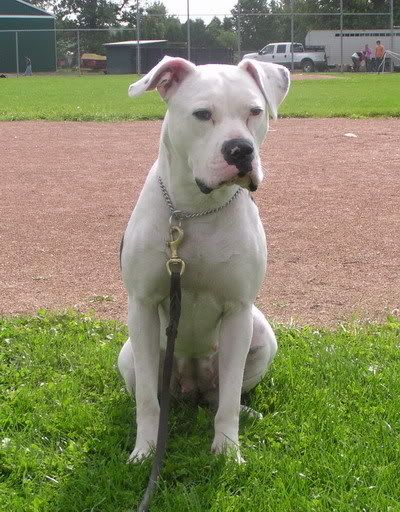 Just one of Rosco with his ribbons before I store them away....doesn't he look thrilled?