Playing ball
Asleep with his tongue out.
Asleep with her baby.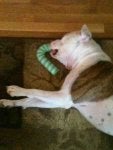 She fell asleep with the toy still in her mouth!
They are making the same face!
Ahoy! (Don't worry the boat was anchored. I keep her on a leash on the floor next to me when we are moving)
Sorry so many pictures! I obviously think my dogs are super cute!
Sent from Petguide.com Free App