Discussion Starter
·
#1
·
Hey everyone! I'm new here but I've been lurking for a while at least until I got an intro up. My husband and I recently adopted a 2 year old English Bully named Justice. We looked for ages before we came accross his ad on Petfinder - and it's a good thing we found the ad because he is the pefect dog for us!
We knew right away that we were going to make sure he had the trainging and attention he needed to be a good dog. According to his owner, he was good with kids, cats, and other dogs. Unforunately, she was wrong about the last one, but that's alright, bullies aren't really known for their ability to play nice with other dogs. We always keep him on a leash and never let him just run willy nilly with other dogs.
And now for the fun part
> Heeeeeere's Justice!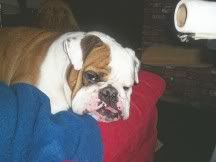 Sleeepy dog.

Playing with gramps (Gramps has nicknamed him Porterhouse, after a team mascot, I forget which, so now Justy responds to that too!)
Sticking his nose where it certainly doesn't belong.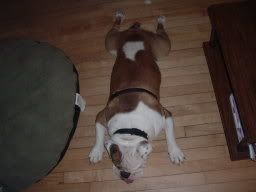 Frog doggin' it.
And I guess that's enough for now. He enjoys going to the park to watch our softball games (Although leaving the balls alone is torture sometimes!), short dips in the pool as long as there's someone there to hold him under his belly while he tries to swim, and trying to catch the clothes line (he'd have it too if it wasn't so high up!).
He goes for his first consultation this friday. He really is a good dog, but we're working on him with sharing his toys. We can take them from him and sometimes he growls, but as soon as we reprimand him, he knows he's screw up. Sometimes he won't even take the toy back and he just sulks! He's never tried to bite, he's not posessive over food what so ever, and he LOVE S when you get down on the floor to play with him.
I'm sorry to ramble, I just love our baby
. I hope you guys enjoyed the pictures.
~Stef, Jamie, and Justy