Discussion Starter
·
#1
·
After experiencing great results with our female in the last year (she turned a year in September) and the desire for her to have a playmate since both my wife and I are pretty busy and we figured that having a playmate could help our dogs development since she's alone alot we went out and bought a new male pup..... Got to browse the puppies the guy had and meet the parents and see the environment the parents lived in.... I was very impressed to say the least. The mother was a very good size blue and the father was an enormous (at least 100lbs) rednose..... We ended up getting the pick of the litter surprisingly.... I'm thinking this male is going to be a gigantic dog..... his paws are huge and he is barely 12 weeks and weighs 25 lbs!!! Is that big for a 12 week puppy???
Anyways we named him "Tank" cause that was what the breeder was calling him initially and it fit perfectly for what he looks like....
So here's a few pictures of both our 1 year old female Asia and our new addition to the fam Tank, followed by a few questions about training....
as a puppy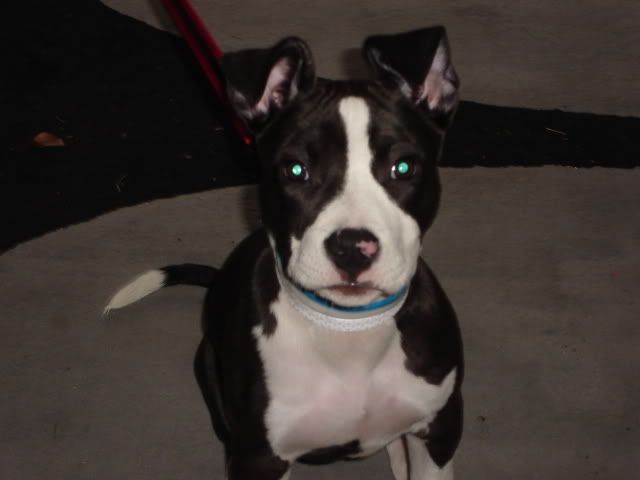 a few months ago before her 1st b-day
Here's tank with my 7 yr old son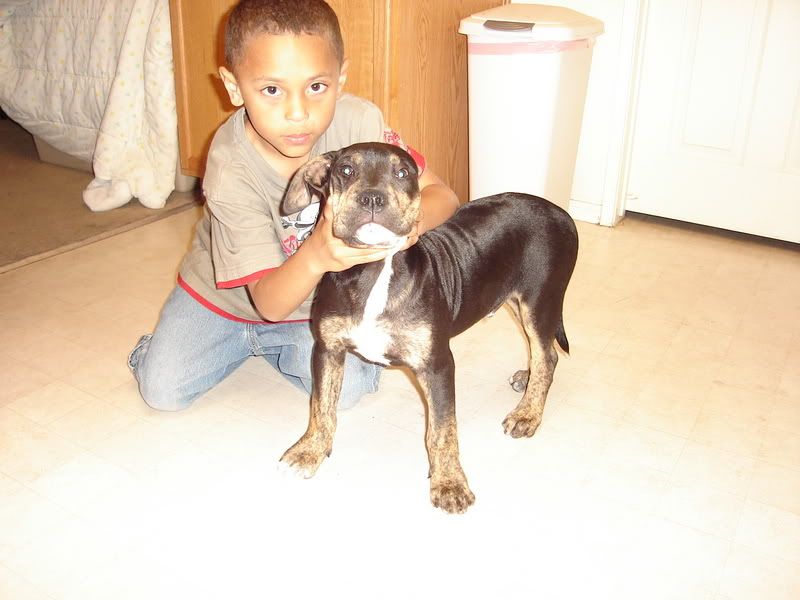 a pic with both my kids (my almost 5 yr old kid is on the right for size comparison)
Doing what he does best...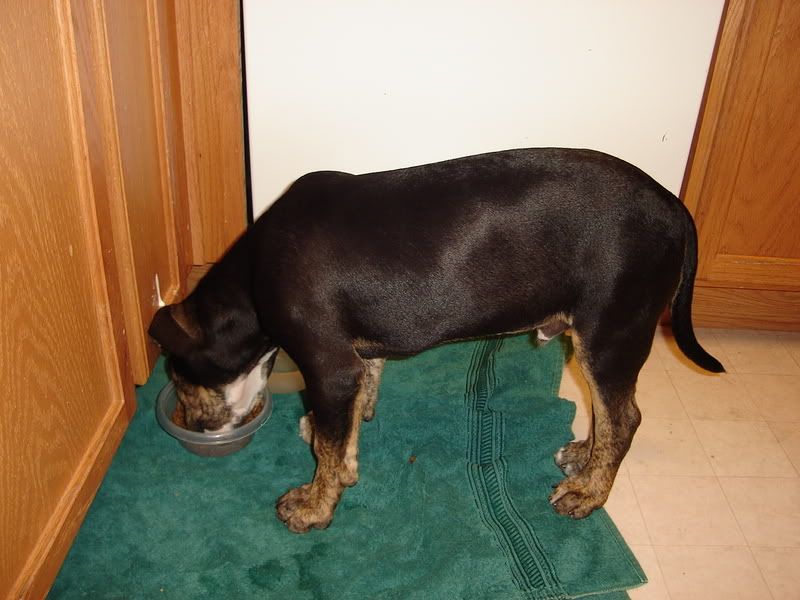 As far as my questions are is that this puppy is WILD!!! Our female was really relaxed as a puppy and just wanted to lay on your lap and crash out... This dog wants to get into everything. If I let him he'd eat my couch, my television, wires from the stereo, pencils, and ANYTHING else within eating distance... and he is extremely persistent when he's told "NO" about something he shouldn't be doing.. Is there something else I can get to dissuade him from trying to eat everything??? I've heard rocks in a can and shake it up when he does something wrong cause they don't like the sound???? Is this just personality differences between the two dogs that I have to deal with and continue training them the same as I did my female (whom by the way is EXTREMELY obedient) who can be walked off a leash and remains a foot from me at all times, kennels up with voice command, and does all the usual obedience commands like sit, down, stay, etc..... any male specific training tips cuz these dogs seem like they are night and day when it comes to personality traits.....
TIA
Jason, Asia, Tank